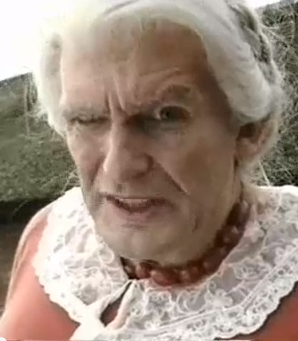 Je kunt zo van die mensen tegenkomen die zich slimmer proberen voor te doen dan ze in werkelijkheid zijn. Proberen, zeg ik er maar bij, want hoe slimmer je je probeert voor te doen, hoe dommer je er uiteindelijk blijkt uit te komen. Je hoeft met deze mensen maar enkele woorden te wisselen en je weet het meteen: wat een hoop gebakken lucht komt uit dat smoelwerk. Alsof je een ballon opblaast en hem dan loslaat, zo klinkt het. Prrrrrrrrrrrttt…prrrrrrrrrt… en dan is het stil tot de volgende uitlaat. Iedere poging om iets zinnigs te zeggen wordt ook meteen gecounterd met emotionele uithalen. Een gesprek voeren is bij voorbaat tot mislukken gedoemd.
Desondanks heb ik het onlangs nog geprobeerd en omdat ik er niet voor schuw om hersenbeschadiging op te lopen, ging ik zelfs in gesprek met een kruidenvrouwtje die het goddelijk licht meende te hebben gezien. Een soort vrouwelijke Harry Potter dus. Als er nu iets is waar ik allergisch voor ben is het wel kwakzalvers. Normaal ren ik hard weg als ik piskijkers tegenkom, maar omdat al vrij vlug bleek dat het oude kruidenvrouwtje eenzaam was en behoefte aan aandacht had, beet ik net zoals Sneeuwwitje even door de zure appel.
Misschien een kleine fout van me, want eenmaal de oude heks van start ging, hield ze niet meer op. Alsof 20 jaar ingehouden menstruatie zich een weg naar buiten zocht, stroomden de gifstoffen uit haar verrimpelde bek. Mijn eerste gedachte was: 'Die heeft al veel te lang geen beurt meer gehad'. Het leek me logisch. Aan de zooi rond haar huis te zien, zou alleen een dronken landloper haar uitgedroogde en verwaarloosde akker willen bewerken. Dan zou het kruidenvrouwtje wel eerst een landloper moeten zoeken, hem dronken voeren, meenemen naar haar huis en dan hopen dat hij zich halverwege de daad niet realiseert dat hij zich op een mestvaalt bevindt en uit frustratie het oude wijf de strot toeknijpt. De gedachte alleen al is waarschijnlijk te vermoeiend voor het gekke kruidenvrouwtje om tot actie over te gaan.
Groot was mijn verbazing toen ik zag dat het kruidenvrouwtje een levensgezel bleek te hebben. Een bijna even lelijke vent als zij, waarbij het woord 'gezel' niet hoeft te worden verward met gezellig. De man zijn gehavende tronie verraadde jarenlang samenleven met het gekke kruidenvrouwtje. Even voelde ik medelijden opkomen, maar al vlug vermande ik me. Hij had er toch zelf voor gekozen om zich bloot te stellen aan de Europese versie van Godzilla? Ook hij maakte net als het kruidenvrouwtje geen aanstalten om de rommel die rond het huis slingerde op te ruimen. Liever ging hij langs de spoorweg wandelen in de hoop dat een moment van onachtzaamheid hem op de sporen deed belanden net wanneer een trein op volle snelheid voorbij raast. Tot dat verlossende moment zou komen probeert hij zich samen met een aantal andere ouwe zakken in een kroeg in het achterlijke dorp waar hij met zijn reden tot zelfmoord woont, te euthanaseren door middel van alcohol. Aan z'n kop te zien begint dit zijn vruchten af te werpen.
Omdat ik me niet kon voorstellen dat de man ooit met het gekke kruidenvrouwtje in zee was gegaan voor haar discutabel uiterlijk of haar labiele karakter, dacht ik even dat het kruidenvrouwtje misschien inhoudelijk iets te bieden had. Nee dus, een leeglopende ballon. Erger nog, ze bleek zelfs eens een of andere ontwikkelingsstoornis te hebben waardoor ze de gemiddelde neanderthaler intellectueel niet zou hebben kunnen bijbenen Dat het kruidenvrouwtje zich jarenlang interessant heeft weten maken en slimmer heeft proberen voordoen, komt doordat ze zich heeft verdiept in de voor het oog verborgen geheimen van natuur en mens. Of spiritueel gezwam. Vooral de publicaties van dr. Zwetser hebben veel inzicht gegeven over hoe een zogenaamd miskend genie met een mentale stoornis zonder veel moeite te doen een asociaal figuur kan worden. Het twaalfvoudige pad naar narcisme.
Ik heb het kruidenvrouwtje gratis advies gegeven (omdat ze er allesbehalve vermogend uitziet) en haar voorgesteld om wat meer sociaal contact te zoeken, maar mijn adviezen werden met de voor boomknuffelaars gebruikelijke scepsis van de hand gewezen. Wel heeft het kruidenvrouwtje me laten weten dat ondanks de vele kwakzalvermiddeltjes haar gezondheid niet zo goed is (geen aambeien!). Ze heeft als therapie geprobeerd de kerstboom te knuffelen, maar de ballen bleken een belemmering te zijn, waarna een aanval van hyperventilatie volgde.
Update 17:13u: Het kruidenvrouwtje laat weten meer tijd met het gezin te gaan doorbrengen. Het gezin wil geen commentaar geven.
Update 17:43u: Volgens de laatste berichten heeft de man van het kruidenvrouwtje op een haar na de trein van 17.29 uur gemist. Omstanders hoorden de man 'ik neuk jullie de moeder in de kont' roepen.
Update: 17:55u: Het kruidenvrouwtje is vanwege niet nader te benoemen handelingen met spoed opgenomen in het Dr.Leuterziekenhuis voor de behandeling van gescheurde aambeien.
Later meer nieuws op de liveblog.