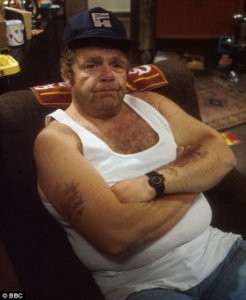 Nu ik al geruime tijd iedereen die met het voyageursleven te maken heeft aan het indelen ben in vakjes kom ik tot de vaststelling dat ik een categorie over het hoofd heb gezien: de gasten. Voor de doorsnee boerenlul: met gast wordt in het kermismilieu een helper of handlanger van buitenaf bedoeld. In principe een kaffer die onder- of onbetaald het lastige werk doet en als beloning kost en inwoon krijgt. Nederlandse forains – of kermisexploitanten zoals ze zichzelf betitelen – noemen de gast knecht. En ere wie ere toekomt, de Hollandse benaming geeft veel beter de status van 'de gast' weer.  Want als er iets is waar de gast niet op hoeft te hopen, is dat hij als gast in de betekenis van bezoeker wordt behandeld. Nee, hij moet werken en zwijgen, zoals het een knecht betaamt.
Ook wij moesten af en toe gebruik maken van een gast en ik weet nog goed dat ons ten strengste verboden werd om al te vriendschappelijk met dit soort mensen om te gaan. Je bracht ze hun eten in hun slaapplaats – voor sommigen een kleine versleten caravan, voor anderen een brits ergens achterin een vrachtwagen – en gaf ze hun opdrachten. Verder dan dat hoefde de communicatie met deze paria's niet te gaan. De meesten waren overigens zelden capabel om een gesprek te voeren. Want laat ons eerlijk zijn: wat voor mens wil de voetveeg van een forain zijn? Voortvluchtige criminelen, van huis weggelopen probleemjongeren, simpele zielen die een kermisobsessie hebben en er alles voor over hebben om het land mee rond te reizen of mannen die van hun vrouw zijn gaan lopen, maar geen geld hebben voor een vliegtuigticket naar Zuid-Amerika.
De gast is dan ook het beste te vergelijken met de Mexicaanse tuinman die we van de Amerikaanse films kennen. Berooid, arm, illegaal, rechteloos, onderbetaald en mikpunt van spot. Ik kan het niet mooier maken dan het is. Maar het is niet altijd kommer en kwel, want net zoals bij de Mexicaanse jardinero worden de taken van de gast ook af en toe verruimd. Buiten het wassen van de auto's en de barakken, het opstellen en bemannen van de attracties, kan het ook wel eens gebeuren dat een gast zijn bazin moet kasperen. Omdat de gast geen rechten heeft, kan hij dit uiteraard niet weigeren en dient hij plichtsgetrouw over te gaan tot de daad. Ik herinner me een enkele keer dat enkele uitgelaten mokkels er zelfs een theekransje van maakten waarbij een gast werd doorgegeven alsof het een joint betrof. Het spreekt voor zich: ook toen veel geblowd. Als apotheose heeft de aanstoker van het feestje een flesje tabasco over de jongen zijn kaneelstok gegoten. Hij liep rood aan.
Nu zijn niet alle gasten aangeschoten wild die hun eten pas krijgen nadat de hond het zijne heeft gehad. Dat zou het verhaal te triest maken en het zelfs doen lijken alsof alle gasten minderwaardige creaturen zijn. De waarheid heeft ook zijn rechten en niet iedere gast is een marginaal. Nee, zo eens om de paar decennia lukt het een gast zelfs om door op regelmatige basis op een foorwijf te klimmen en daaraan te blijven plakken ook effectief op te klimmen tot de benijdenswaardige rang van zelfstandig foorreiziger – een respectabel beroep dat niks met zuipen en vechten te maken heeft – en zodoende de status van 'boerain' te krijgen. Ik weet, niet iedereen is blij met weer een kaffer erbij op de foor, maar het is nog altijd beter dan inteelt.