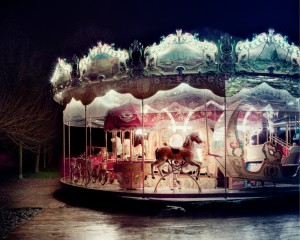 Ik las ergens dat een of andere fotografe anderhalf jaar lang een forain van de achtste generatie heeft gevolgd en daar in 2015 een boek over zou uitbrengen met als titel: Forain, kaffers en boerinnen. Ik heb het boek niet zien verschijnen, maar er is wel iets blijven hangen van dat verhaal. 'Al wie geboren is op de kermis en er weg gaat, komt terug', klinkt het. Dat is natuurlijk zever in pakskes, want hoeveel foorreizigers hebben niet hun biezen gepakt om nooit meer weer te keren.
Nu begrijp ik de onderliggende boodschap wel. Forain zijn zit in het bloed en het spreekwoord – een soort wetenschappelijke onderbouwing voor wie te lui of te achterlijk is om zelf na te denken – zegt: 'Het bloed kruipt waar het niet gaan kan'. De kermiswereld, dat magische wonderland dat menig bezoeker zijn dagelijkse sleur of ellende doet vergeten, is dan ook een grote familie. En die familie is hecht, heel echt. Kom aan één forain en je krijgt de hele gemeenschap tegenover je. Hetzelfde bloed stroomt iedere forain door de aders. Dat kan misschien ook wel letterlijk worden genomen, want zoveel families om de kermiswereld draaiende te houden zijn er eigenlijk niet.
Niet verwonderlijk dus, en ook bewonderenswaardig, dat forains, en met hen alle andere voyageurs, als een blok staan wanneer een van hen op de korrel wordt genomen. Als kleine gemeenschap ben je gemakkelijk kop van jut. Zeker wanneer zo'n kleine, excentrieke gemeenschap een keer negatief in beeld komt, zijn er altijd wel azijnpissers die er genoegen in scheppen om het hele kermisgebeuren af te schieten. Niet alleen forains hebben last van zo'n gestampte boeren. Al het karrekesvolk, al wie een beetje voyageert, heeft daar op tijd en stond onder te lijden: foorreizigers, patjalders, circusmensen en niet te vergeten, zigeuners.
Wat echter niet mag worden vergeten, is dat de forain op zon- en feestdagen, tijdens vakanties of in de late uurtjes het volk entertaint en een troosteloze dorpskern omtovert tot een magische wereld waar maanden op voorhand naar wordt uitgekeken. De foorreiziger is met recht de hoeder van een eeuwenoude traditie die als cultuurerfgoed mag worden beschouwd: de Vlaamse kermis, evenwel in een modern jasje. Wie de kermis bezoekt en baadt in het lichtspel van de attracties; vibreert op de muziek die uit de boxen schalt of zich laat bedwelmen door de geur van suikerspin, popcorn, frieten en smoutebollen, weet niet welke tol forains betalen om keer op keer dit magic wonderland te creëren. Niet dat forains dit verwachten, maar het plezier dat ze brengen, wordt nogal eens over het hoofd gezien.
Een ding is zeker: het harde leven in de coulissen van het kermistoneel staat in schril contrast tot het fantastische schouwspel dat een dagje kermis heet. Gratis is het toverland niet, maar niemand geeft graag zijn bloed, zweet en tranen zomaar weg, ook forains niet. Foorreizigersbloed, het echte wel te verstaan, is bovendien schaars.