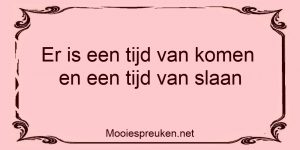 Als er iets is dat ik me herinner van mijn jonge jaren, is dat het er constant gewelddadig aan toe ging. Zo vaak er gebatterd werd, minstens zo vaak werd er ook over batteren gesproken. Voor elk probleem bestond een universele oplossing: 'Kleunt 'em'. Of anders gezegd: 'Sloan, pa!'
Van mijn zestiende tot mijn twintigste jaar was ik er heilig van overtuigd dat uitputtende en schijnbaar tot niets leidende conflicten het beste konden worden opgelost door keihard op iemands murft te slaan. Met overtuiging en zo lang de conditie het toelaat. Op die tronie timmeren tot de ander – bij gebrek aan valabele, overtreffende argumenten – het opgeeft. Vreemd genoeg verrichtte deze barbaarse techniek wonderen. Ik weet niet waar het fout is gegaan, maar op een gegeven ogenblik heb ik deze min of meer therapeutische methode gelaten voor wat ze is. In plaats van conflicten supersnel op te lossen middels enkele rake klappen ging ik honderd procent voor het zeikerdom. Dat is een uitputtende vorm van geloof waarbij de conflicterende partijen zolang tegen mekaar zeiken tot ze niet meer weten waarover het gaat en er hooguit wat trek- en duwwerk aan te pas komt. In het beste geval komt alsnog iemand op de proppen die wat smoelwerken verbouwt en het gezeik doet ophouden. En man man, wat heb ik al wat afgezeken. Met mij zijn er miljoenen zeikers die er – het is een plaag – voor zorgen dat zaken aanslepen. Handen uit de mouwen? Het staat niet in de zeikeriaanse bijbel.
In de categorie losse handjes versus zeikers spande wijlen mijn peter zonder enige twijfel de kroon. Ons Joske had een zogenaamde 'hands on'-mentaliteit en rammelde zeikers per direct af. Hoe zich dit praktisch manifesteerde is het beste te schetsen aan de hand van een paar voorbeelden. Toen begin jaren '80 tijdens een groot feest de wouten binnenvielen om te komen melden dat er burenoverlast was, vond ons Joske het verhaal van de wouten te lang duren, nam hij de kepie van een van die dienders, vulde die met zuurkool en zette die op het hoofd van de verbouwereerde wout. Vervolgens sloeg hij hem rond zijn oren en gaf hem een trap onder zijn tokes. Zaak gesloten? Nee, toch niet. Tientallen mensen volgden onmiddellijk zijn voorbeeld. Ik zag mensen de kroonluchters in de zaal gebruiken om in echte wild-west-stijl over de tafels in iemands nek te vliegen. Alles wat ik in oude westerns had gezien, speelde zich voor mijn eigen ogen in real time af. De eigenaar van feestzaal de Witte Molen in Aarschot heeft nooit meer aan ons willen verhuren. Een gebrek aan tolerantie uiteraard en vandaag de dag zelfs rassendiscriminatie.
Nu waren het niet altijd grote feesten die tot groot geweld leidden. Ook in intieme kring manifesteerde het gebrek aan IQ zich. Op een dag (eender welke) had mijn moeder een meningsverschil met mijn stiefvader, de Fonne, dat op traditionele wijze werd opgelost: met een volle ijzeren staaf werden de Fonne zijn ribben bewerkt, waarna hij niet meer de juiste adem vond om nog verder te discussiëren. 'Op de ribben, daar heeft hij het langste plezier van', aldus de wijze les van mijn peetvader. De eerlijkheid gebiedt me om te vertellen dat ik – in het kader van een goede voorbereiding – opdracht had gekregen de zatlap eerst te peppersprayen. Hij zag het cadeautje van ons Joske niet echt aankomen. Een paar jaar daarvoor had overigens mijn tante de Fonne zijn schedelpan verbouwd met een marmeren asbak. Alleen de kwalitatief betere materialen voor het herstellen van de rust. Hoewel, rust. Mijn tante was ziedend toen ze zag dat de Fonne haar asbak met zijn hoofd had gebroken.
Uiteindelijk is de Fonne geen gewelddadige dood gestorven, maar heeft zijn bovengemiddelde alcoholconsumptie hem een plaats in de buurt van Bacchus (niet de brouwerij) bezorgd. De Fonne zijn uitvaart verliep rustig tot wij daar verschenen. Van al degenen die ik doorheen de jaren geweld heb zien aandoen, is de Fonne wel de meest constante; Lang heb ik gedacht dat hij er zelf geen schuld aan had, tot hij het hele huis sloopte en ik een ander beeld van hem kreeg. Achteraf bleek dat hij op dat bewuste moment over de rooie ging, omdat niet nader genoemde personen een lading pillen onder zijn eten hadden gemixt. In combinatie met de grote hoeveelheid alcohol zag ik de pillen als mogelijk oorzaak voor het schuimbekken van de Fonne. Jaren om gelachen.